Golden rules
The France Passion spirit: Dos and don'ts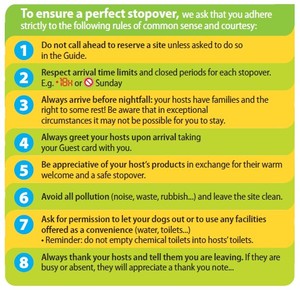 Dear friends and motorhomers,

All stopovers in the Guide are strictly reserved for France Passion members on board a 100% self contained motorhome (water, waste, rubbish...).

Your hosts are farmers, winegrowers, motorhome owners or artisans who have signed up for one year only to welcome you onto their private properties for a 24h stopover.

Always greet your hosts
◗ As a courtesy, and just as you would a friend
◗ Do go and meet your hosts, taking your guest card with you
◗ Say goodbye when you leave. If your hosts are busy or absent they'll appreciate your leaving a little note…
No charge, but be considerate
◗ For personal or professional reasons some sites indicate closing dates, or arrival time limits; please respect them! ex. : •18h (6 pm)
◗ Always arrive before nightfall; your hosts have a family life too!
◗ Accept that occasionally a host may not be able to receive you for personal reasons
◗ Being appreciative of your host's produce, is a simple and elegant way of thanking them for their warm welcome and safe site
◗ Don't sneak away : there is no obligation to buy
◗ Be respectful – avoid noise, rubbish…
◗ Leave the site as clean as you would like to find it
France Passion stopover sites are not service areas
They are reserved exclusively for France Passion members driving a selfcontained motorhome (water, waste, rubbish)
◗ Hosts have no obligation to provide facilities other than a parking site
◗ Always ask before :
• Letting animals out
• Using any facilities, and use only if absolutely necessary (water, WC...).
Reminder : do not empty chemical toilets into hosts toilets!
Use this year's Guide!
◗ To discover all the new destinations France Passion offers each year!
◗ Do not use out of date guides, firstly as a courtesy towards hosts who have changed their information or left the network, and also out of respect for those who have paid for their membership.
◗ Only the latest guide provides up to date addresses of confirmed hosts who have signed up for the current year!
The France Passion way of thinking, for perfect stopovers...
●Listen carefully to any instructions your host gives you, and keep your behaviour above reproach
●You are on holiday, your hosts are not!
Please give total respect to their private life.